Kenya PVOC Certificate
---
---
  Certificate of Conformity for Exports to Kenya
The Pre-Export Verification of Conformity (PVOC) Programme is a conformity assessment programme applied to specific products, in the respective exporting countries, to ensure their compliance with the applicable Kenyan Technical Regulations and mandatory Standards or approved specifications.
We are appointed to issue a Certificate of Conformity (COC) or Certificate of Inspection (COI) for exports of regulated products to Kenya. Our mandate consists in undertaking conformity assessment activities in the country of origin for products being imported into the Republic of Kenya. It is important to note that any shipment that arrives without a COC or a COI will be prohibited from entering the country.
We have been appointed to operate the PVOC programme, in the following four geographical zones:
1. Zone 2: mainland China, Hong Kong, Taiwan and Mongolia
2. Zone 4: Japan, South Korea, North Korea, Indonesia, Malaysia, Philippines, Thailand, Singapore, Vietnam, Cambodia
3. Zone 14: United Arab Emirates
4. Zone 16: Egypt, Tunisia, Libya, Sudan, Chad, Eritrea, Ethiopia, Djibouti
Exempted Products
All products, other than those listed in the Kenya Exporter Guide, are regulated under the PVOC programme.
Kenya Conformity Assessment Process
Leno is a trusted partner to the Kenyan government and our mandate includes one or a combination of the following kinds of verification to ensure production is compliant with Kenyan standards: inspection, sampling, testing of goods at laboratories accredited as per ISO 17025, sealing of full-load containers when required, and factory audits. When conformity is demonstrated we will proceed with the issuance of a Certificate of Conformity (COC) or a Certificate of Inspection (COI), a mandatory document necessary for Customs clearance.
To assess the conformity of a shipment, the Verification of Conformity process will follow one of the four levels of compliance, named "routes". The choice of the route depends on the profile of the exporter. These are:
1. Route A for exporters with infrequent shipments
2. Route B for exporters with regular shipments (registered products)
3. Route C for manufacturers with regular and high-volume shipments (licensed products)
4. Route D for consolidators registered with KEBS with consolidated product shipments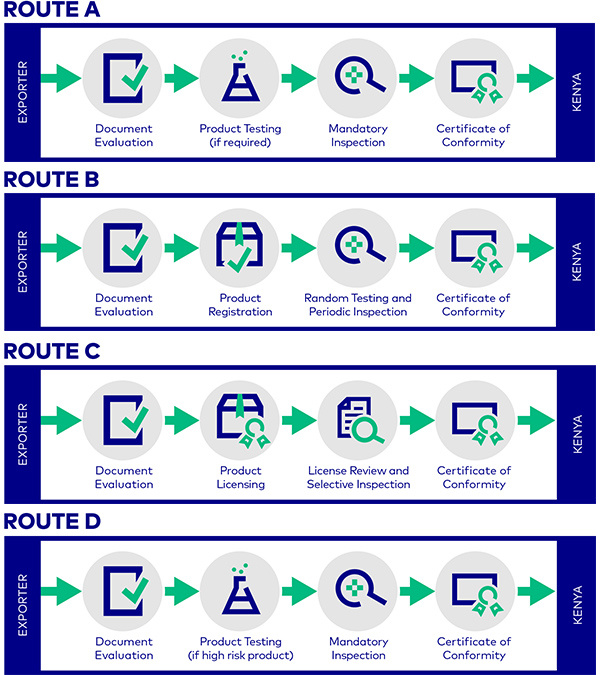 Request a Certification
To learn more about our verification of conformity programmes, or to request a Certificate of Conformity (COC) for your shipment, please download our VOC contact list mentioned above.
Please note that to receive a quote you will need to have at least the following export documents ready:
Request for Certification – RFC (available above)
Pro forma or commercial invoice
---
Related Services
---