Nigeria SONCAP Certificate
---
---
The Federal Government of Nigeria introduced the Standards Organisation of Nigeria Conformity Assessment Programme or SONCAP for short in order to address the number of unsafe products entering the country and the subsequent risks to public health and safety.
Under this programme, importers of a wide range of goods must obtain two certificates in order to operate:
Product Certificate (PC)
either unregistered, registered or licensed
SONCAP Certificate (SC)
In 2013, we were appointed by the Standards Organisation of Nigeria (SON) to issue these certificates. Our mandate allows us to accompany exporters and importers throughout the conformity assessment process, and assist them in obtaining the necessary Product and SONCAP Certificates.
SONCAP Exempted Products
All products, other than those listed below, are regulated under the SONCAP programme. The exempted products are:
Food products
Medicines
Medical products other than equipment and machines
Chemical products used as raw materials by bonafide manufacturers
Military wares & equipment
Goods classified as contraband by the Federal Government of Nigeria
Used products other than automobiles
Machinery (or related spare parts) destined for use by bonafide manufacturers*who intend to use this for their own manufacturing purposes. They are advised to apply to the SON for a SONCAP import permit.
Please note that to be recognised as a bona fide manufacturer, companies must be registered with the Manufacturers Association of Nigeria (MAN). Unregistered companies cannot apply for an import permit and will have to go through the normal procedures.
SONCAP Conformity Assessment Process
Leno is a trusted partner to the Nigerian government. Our mandate covers the physical inspection, sampling and testing of goods at laboratories accredited as per ISO 17025.
To assess the conformity of a shipment, the verification of conformity process will follow one of the three levels of compliance, named "routes". The choice of the route depends on the profile of the exporter. These are:
1. Route A for exporters with infrequent shipments (unregistered & unlicensed products)
2. Route B for exporters with regular shipments (registered products)
3. Route C for manufacturers with regular and high-volume shipments (licensed products)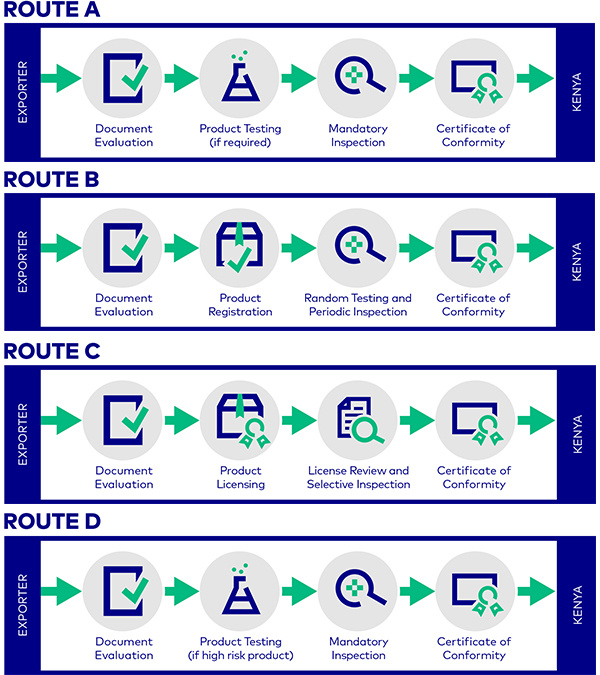 Request a Certification
To learn more about our verification of conformity programmes, or to request a Certificate of Conformity (COC) for your shipment, please download our VOC contact list mentioned above.
Please note that to receive a quote you will need to have at least the following export documents ready:
Request for Certification – RFC (available above)
Pro forma or commercial invoice
---
Related Services
---